Apologies for not having a betta owner spotlight in a while, life has been a little crazy. I hope you and your little aquatic buddies have been good though! Recently Vanessa who is in our Facebook community shared a photo of her betta Blaze with everyone in his awesome tank. He really caught my eye and I thought it would be great to introduce him and Vanessa to all of you. I won't spoil anything so keep reading below to find out more.
Is Blaze your first Betta fish? Where did you get him and why did you choose him specifically?
Blaze is not my first Betta fish. I have had many before him. It has been awhile since I had one and could not resist him at the pet store. I got Blaze from Petco one afternoon when I was getting dog food. I had the planted tank for a while and needed an occupant. I chose Blaze because of his coloring and because he had a spunky personality.
Most people have a reason for naming their pet fish, why did you choose Blaze.
I chose the name Blaze based off a Nickelodeon show, Blaze and the Monster Machines. It is my son's favorite show. Blaze also loves to speed around his tank. He is super quick.
What specific advice would you give to a new betta owner?
I would tell people to do some research on the betta fish and the best environment for it to live in before making a quick purchase. People make the terrible mistake of falling for the idea that they can live in small bowls, or without a heater or filter. The truth is a betta should have no less than 5 to 6 gallons of water to live in and it should be filtered and kept at a tropical temperature.
It is cruel and unfair to house a betta in small bowls. They need space to swim and plants and decor to explore. A consistent, stable quality of water is very important for the health of your betta. Also remember that a pet is a responsibility and it needs to be cared for properly. Bettas are amazing pets that deserve a happy and healthy home.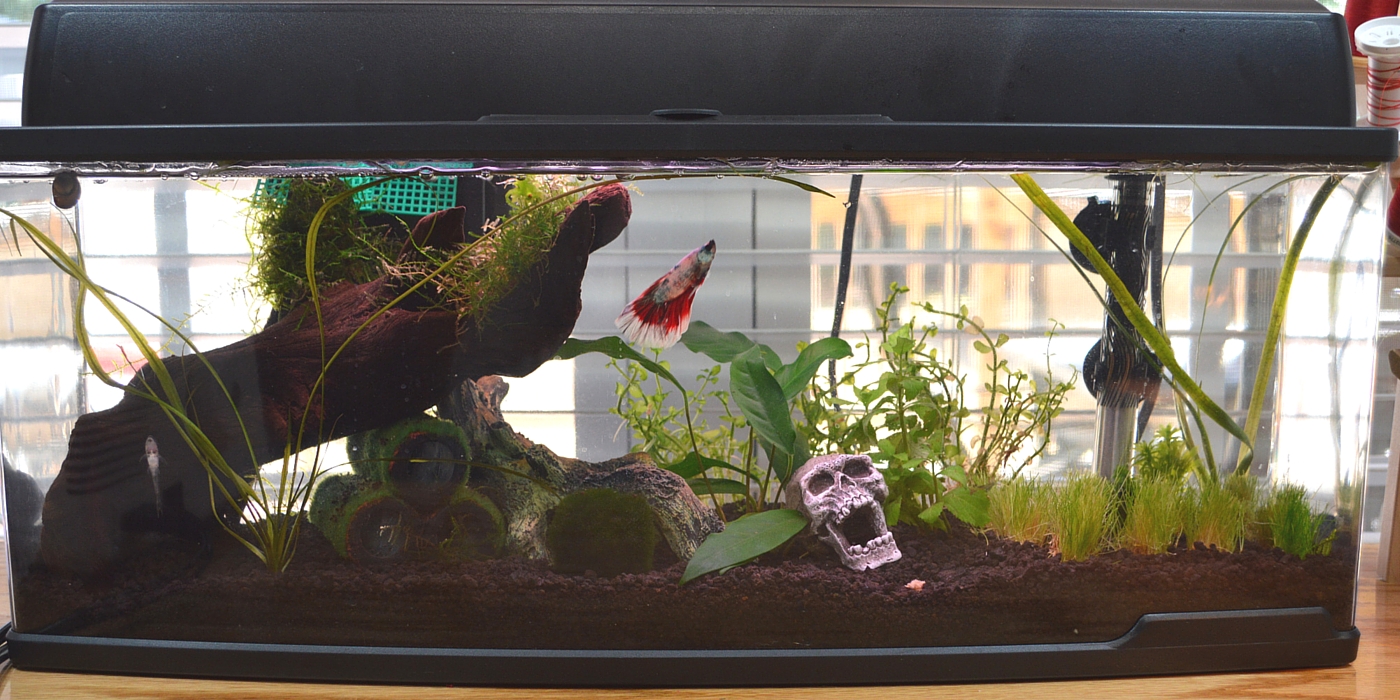 Tell us about your tank setup, from plants to the substrate.
I have always liked the idea of long tanks to allow more space for my fish to swim. Never liked the small tanks lengthwise because they are limited. I saw the 6.6 gallon Petco bookshelf tank and just had to have it. It is 24" in length, 8" deep, and 9" tall. I changed the filter to a Marineland Bio-wheel Penguin 100. I have a heater set at 78 degrees. The substrate is eco-complete for my plants.
My plants consist of a betta bulb that opened into a pretty cool plant, a water wisteria, anubias, java moss, dwarf hairgrass, bacopa, and jungle val. I have a piece of driftwood and some other decor for creating hiding places. I also added Nerite snails, an Oto, a white mystery snail, and ghost shrimp for friends. And I changed the light to the Aqueon plant growth light bulb.
What product or products do you recommend to others?
I would recommend using Seachem products. I use Seachem Prime when doing water changes to help remove Chlorine and Chloramine. It also detoxifies ammonia, Nitrite, and Nitrate. It helps provide slime coat as well. I use Seachem Flourish, Trace, and Excel, to keep my plants healthy too. Lastly, I recommend long tanks for fish to have more surface area to swim.
Name one thing you learned recently about betta's that you didn't know before.
I have always been told that they cannot be housed with other tank mates. I know now from experience that they can be housed with other tank mates if done properly. They can coexist with neon tetras, platy's, white cloud minnows, rasboras, cories, etc. Each betta is different so I would recommend having another tank available if it doesn't work out.
What is your favorite part about caring for a betta fish?
For me, it is the peacefulness I feel watching Blaze explore his environment. He keeps me smiling because he's always hiding from me but peeking out to see if I am looking for him. He is very playful.
What type of betta fish is Blaze?
Blaze is a Butterfly Betta. He is so beautiful and colorful. He has red, white, and blue colors. Truly a gorgeous fish.
Do you have any unique plans for the future?
I have a 10 gallon tank that I just added a betta fish to. He is my son's betta and his name is megabyte. Not sure what type of betta he is but he is a gorgeous green and blue. My son loves the responsibility of taking care of his fish family.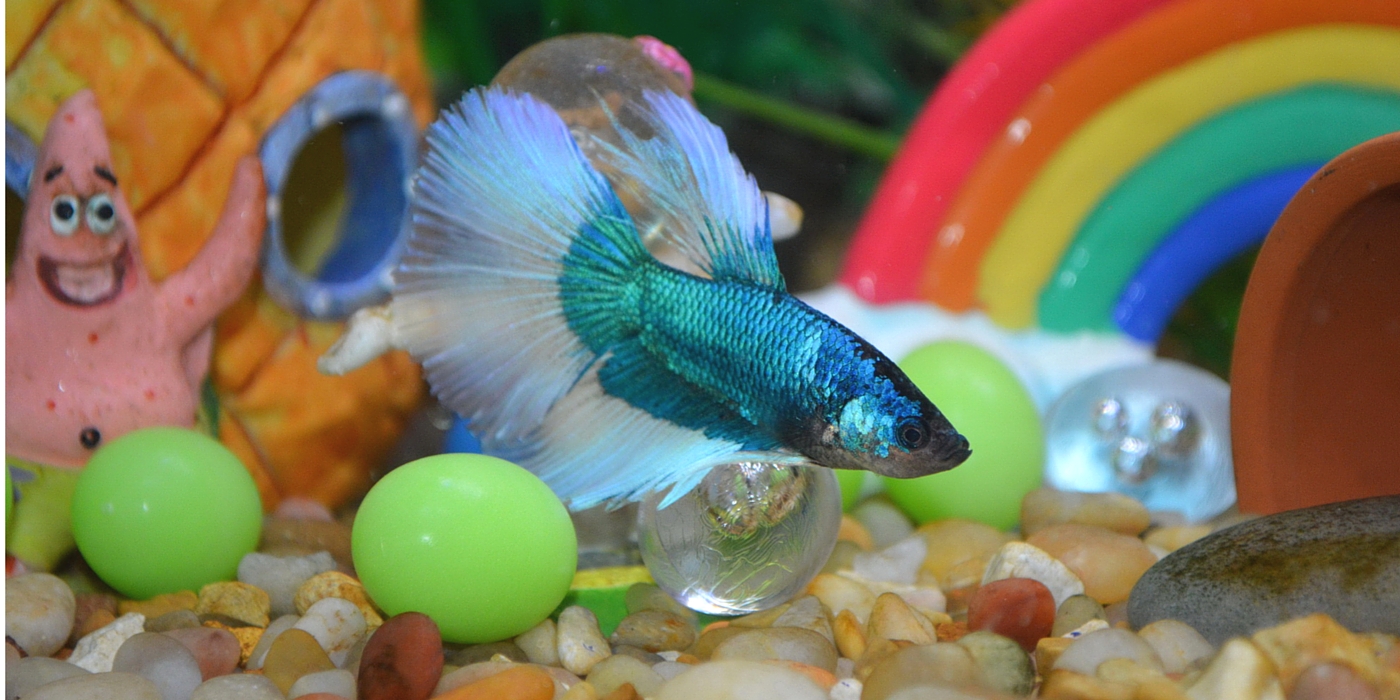 Tell us one betta myth that you wish would die forever.
One myth that I wish would die forever is that betta fish do not need more than a cup full of water to live in. That just because a betta fish breathes from the surface of the water he does not need a large amount of water to live in. That is false and inhumane. The truth is bettas need a clean environment to thrive in and enough space to explore.
Having them in such a small amount of water creates extremely poor water quality which can make them very sick very fast. They are basically swimming in their waste. So with that, make sure you have no less than 5 gallons for your betta, have a filter and heater and keep doing water changes to create the ideal, healthy, and stable environment for your betta buddy to live in. When a betta is living in the right ecosystem and aquarium setup, you will see its true personality shine and get to appreciate their beauty for a lot longer.
If you have any questions for Vanessa, drop them in the comments below!